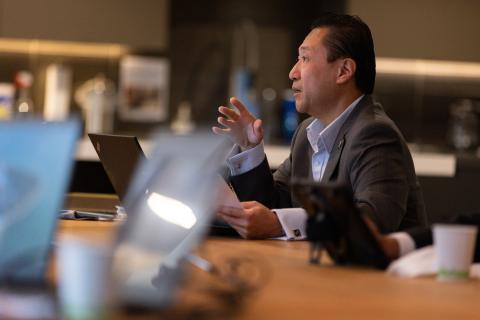 This spring, our long-time Director of Claims, Sherman Chow, announced that he will retire at the end of November 2023.
Sherman joined the MIABC as a Claims Examiner 29 years ago, immediately becoming a valued member of the team. In 2000, he was promoted to Claims Manager. Sherman has been responsible for our Claims Department for over half the time the MIABC has been in business.
In 2014, Sherman took a brief hiatus from his claims management role to launch the MIABC's Property Insurance Program as the Director of Insurance. Under his leadership, the Insurance Department was created and the MIABC became a true "one-stop shop" for municipal insurance of all kinds.
When Sherman was needed again in the Claims Department, he did not hesitate to step back into his role as the Director of Claims, which he has held since 2016. Throughout his time at the MIABC, Sherman has been a leader and team player, carrying out his duties with the highest level of competence and professionalism.
Sherman will be greatly missed by MIABC's staff, members and service providers alike. If you would like to leave a congratulatory message for Sherman, please click here.