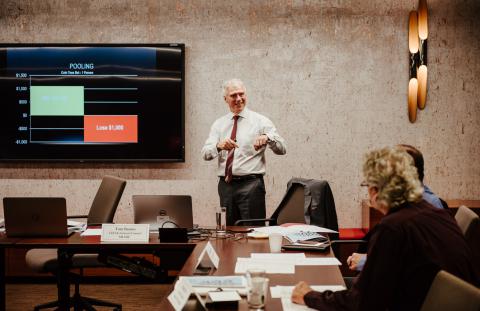 After sixteen years leading the Municipal Insurance Association of British Columbia (MIABC), Chief Executive Officer, Tom Barnes, has announced he plans to retire at the end of June 2022.
Tom has played a critical role in the growth and transformation of the MIABC. Appointed as the MIABC's Claims Advisor at its inception in 1986, Tom has worked with the organization in various roles ever since – as a lawyer, claims and litigation management consultant, and finally as its CEO.  
Since 2005, he has turned the MIABC from a small claims-handling operation into a sophisticated organization, delivering comprehensive member services and insurance solutions to local governments throughout British Columbia. His leadership has helped the MIABC achieve many significant accomplishments, including the introduction of the MIABC's Property Insurance Program, the establishment of an in-house legal department and brokerage arm, as well as the expansion of our member services to include the Casual Legal Advice program and in-house loss control services.  During his time as CEO the MIABC's staff has tripled, allowing the MIABC to flourish into a full-service insurance and risk management service provider, comprised of a diverse group of subject-matter experts who are passionate about seeing British Columbia's communities thrive.
Not only has Tom become a prominent figure in the local government community, but he has also made significant contributions to the world of reciprocal pooling in North America. In addition to his role as CEO, Tom sits on the board of the Canadian Association of Insurance Reciprocals (CAIR) and recently ended his term on the Board of the Association of Governmental Risk Pools (AGRiP).  He is well regarded as pooling operations expert and in 2020, AGRiP recognized Tom as a transformative pool leader and awarded him their Award for Excellence in Leadership.   
When asked what his proudest achievement has been as CEO, the answer was easy – the hardworking team of professionals that have driven the MIABC's success. 
The MIABC's Board of Directors has established a Succession Committee that will work with Tom and outside consultants to formulate a Succession Plan that will deliver a smooth leadership transition for our organization. His position will be posted in the fall, with the hopes of selecting a new leader next spring.
We are grateful for Tom's leadership and wish him a long and happy retirement.