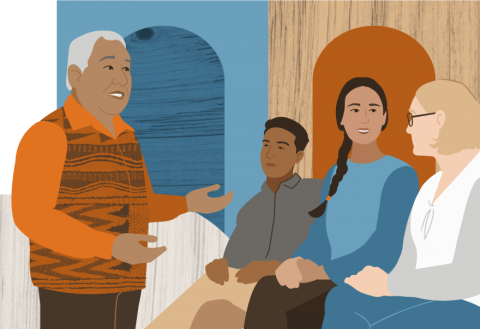 The National Day for Truth and Reconciliation is a new federal statutory holiday that recognizes and reflects on the tragic history and ongoing legacy of residential schools. Although it is a federal holiday, the MIABC has elected to recognize September 30th as statutory holiday in remembrance of the history and ongoing intergenerational impacts of residential schools and to honour residential school survivors and the children who did not return home.  Mark September 30th by wearing orange shirts and learn more about Truth and Reconciliation by reviewing the following resources:
Truth and Reconciliation Commission of Canada:  Calls to Action 
Beyond 94: Truth and Reconciliation in Canada 
(an immersive CBC website on the 94 Calls to Action that tracks outcomes and gives students – and adults! – a chance to learn where we are on the journey and how we can work together. 
National Centre for Truth and Reconciliation website
A website dedicated as a place of learning and dialogue where the truths of the residential school experience will be honoured and kept safe for future generations. The National Centre for Truth and Reconciliation has made important reports available, including all the reports created by the Truth and Reconciliation Commission of Canada (TRC). 
Orange Shirt Day
Where Else to Purchase Orange Shirts by Indigenous Designers
Reading List
A reading list curated by Cree author David A. Robertson.  The books span all sorts of genres, ages and reading styles:  
Indigenous Canada
Online Course (University of Alberta).   A more immersive option to learn about Indigenous history and current issues.  A free online course (and a paid option, too) that helps Canadians relearn their history by exploring Indigenous histories and contemporary issues in Canada. 
Whose Land
An app that uses GIS technology to assist users in identifying Indigenous Nations, territories, and Indigenous communities across Canada. The app can be used for learning about the territory your home or business is situated on, finding information for a land acknowledgement, and learning about the treaties and agreements signed across Canada. Educational videos are available to watch that will give you a better understanding of why land acknowledgements are important, and the way Indigenous people view their relationship to land. Can also be a helpful tool for those wishing to add a land acknowledgement in their email signature.