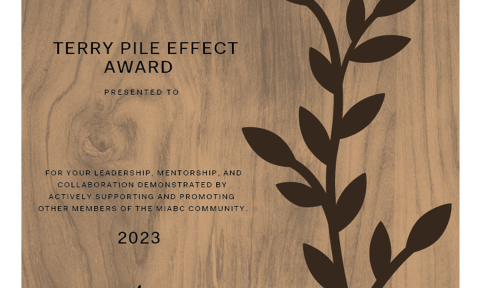 In 2021, we lost a significant member of the MIABC community, Terry Pile. Terry was the Risk Manager for the City of Kamloops for over 20 years, and he was a well-known member of the MIABC community. Terry was also one of the MIABC's biggest champions. His enthusiasm for the MIABC was contagious, so much so that we coined it "the Terry Pile Effect" to refer to members actively promoting and supporting others. Terry's passing left a void that is deeply felt, not only at the MIABC, but also in the wider local government risk management community.

In memory of Terry, we established the Terry Pile Effect Award to recognize individuals who have made significant contributions to the MIABC community. This award is presented annually at the MIABC's Risk Management Conference, and we are now accepting nominations from the MIABC membership for 2023.

To qualify, nominees must meet the following criteria:
Works in or with local government;

Has demonstrated dedication towards increasing risk intelligence in local government;

Supports and/or promotes the MIABC community and its members; and 

Has demonstrated qualities of:

Leadership

Mentorship to others by sharing knowledge, experiences, and ideas

Teamwork and cross organizational collaboration
Nominations will be accepted until 5:00pm on February 1, 2023.
To submit your nomination, please submit a completed form to Marina Sen-Partridge, Manager of Member Engagement, at msen@miabc.org.
Nominations not selected will be kept on file and reconsidered for future years.