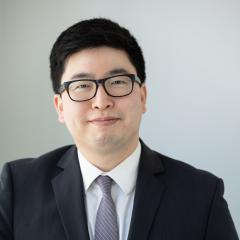 Since his call to the British Columbia Bar in 2016, Brian has practiced exclusively in the area of insurance law. His practice focuses on complex personal injury claims, occupiers' liability, and property damage claims. Brian's focus is to provide easy-to-understand advice and opinions to our members and to resolve claims effectively with a view to saving litigation costs and expenses. 
Prior to joining the MIABC in 2021, Brian was counsel for large Canadian, American, and global insurance companies. He advised adjusters, claims examiners, and claims managers on all aspects of litigated insurance claims. Brian has appeared before the Provincial Court of British Columbia and the Supreme Court of British Columbia, as well as the Civil Resolution Tribunal. He has also represented clients in complex multi-party negotiations and mediations, achieving favourable settlements. 
Brian holds a Juris Doctor and a Bachelor of Commerce with Honours, specialization in Finance, both from the University of British Columbia. During his time in law school, he has extensively volunteered his time with the school's legal clinic, the Law Students' Legal Advice Program. Brian also obtained his Chartered Insurance Professional (CIP) designation to better serve his clients in the insurance industry.